Enjoy Excellent Garden Services in Crayford DA1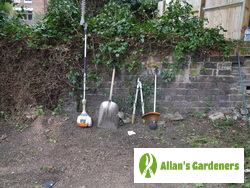 If your dream is to have a beautiful garden but you don't have the time to dedicate to the job, call 020 3746 3128 and take advantage of Allan's Gardeners. On hand to help with different kinds of work, the services of the expert local Crayford DA1 garden maintainers are an affordable alternative to spending time and effort yourself. Available for both residential and commercial customers, we have an arsenal full of the best equipment, tools and expertise in order to create your dream garden, and then keep it well maintained. Our prices are reasonable, and your service can be booked on a regular basis – daily, weekly, or for a one off occasion.
Book Us for Garden Maintenance in Crayford DA1 and Get the Service You Deserve
When you book us to carry out garden maintenance in Crayford DA1 we'll send you skilled gardeners that work 7-days a week no matter the weather and you'll also be able to enjoy:
Round-the-clock help and advice both over the phone and online from our friendly advisers
Free quotes and on-site assessments that carry absolutely no-obligation for you
A full range of services that are tailored to meet your needs, and give you the best possible results
Competitive rates that get even better when you take advantage of our special offers
A range of appointment times, including same-day when available and weekends at no extra cost
Experienced gardeners that come to you fully equipped, comprehensively insured, and ready to get the job done.
Get All Your Garden Maintenance Services From a Single Company in Crayford
Choose what you need from us, we do it all! Whenever you call on Allan's team you'll get the benefit of two experienced horticulturists and all the tools they need to complete whatever work you've asked for. Our staff will take the time to follow your detailed instructions and needs and make sure that your work is completed to the highest of standards. Above all, you'll get the benefits of a friendly local firm with a commitment to outstanding customer care combined with the resources you'd expect from the biggest of national concerns. Our gardening services include:
Garden Design:

Whether you want low maintenance, a cottage garden or space for outdoor dining, the designers will realise your dreams.

Patio Cleaning:

Keep your paths, patios and other hard landscaping fresh-looking and safe underfoot.

Tree Surgery:

The trees in your garden form the backbone of your outdoor layout – the qualified tree surgeons will keep them healthy.

Lawn Care:

From seeding a new lawn to repairing an old one, the lawn care team have the tools and experience to do a great job.

Gutter Cleaning:

The gutter cleaners work from the ground using a wet vacuum cleaner. This makes for a fast, affordable service.
The Specialised Equipment Used by Our Gardening Services in Crayford
Whether you want garden maintenance, a seasonal tidy up or a garden design service, our comprehensive collection of equipment and tools can do it all. We'll provide everything from the basic tools of shovels, brooms or spades to more advanced, industry-standard technology such as chainsaws, blowers or hedge and grass trimmers so you know you can rely on us for precision garden care by highly trained experts.
Call Us at Allan's Gardeners Today for All of Your Gardening Needs!
You'll find it quick and easy to get more details on the range of services that we offer here at Allan's Gardeners, or arrange a booking at a time to suit you. Firstly you can call 020 3746 3128 24/7 to speak to one of our helpful advisers and discuss what you need us to do. We may recommend a visit to assess the work, but on most occasions we'll be able to give you a free, no-obligation quote there and then, and may even be able to begin work immediately if you would like. Our contact form is another great way to get in touch. Just enter your details and you can arrange a call back at a time to suit you!
You can get professional gardening and other services from us in more than just Crayford. Find experts in; Crayford, St Marys, Bexley, Bexleyheath, Barnehurst, Swanley, Woolwich, Cray Meadows, Bean, Danson Park,