Experienced, Insured Gutter Cleaners in High Wycombe HP10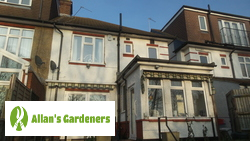 Taking good care of your guttering is vital to ensuring your drainage system doesn't get blocked and cause the sort of extensive damage to your property that could end up in costly repairs. Booking our gutter cleaning service in High Wycombe HP10 is the first choice for getting your gutters cleaned by local experts. Offering affordable rates for a bespoke service, we can fix or replace broken pipes, clear downpipes and provide regular check ups to make sure that no blockages are affecting your property in any way. Working in your local area for more than a decade, we've got a great understanding of what our customers expect from us, and with over 95% positive feedback, we know we're doing the best job to your satisfaction. Whether you wish to hire us for a commercial or residential property, we're always on hand to give you a free, no-obligation quote and any advice you need.
We Offer the Following Services…
Patio Cleaning

– we can return the shine to your patio, garden furniture and fence in just one visit!

Tree Surgery

– providing competent and qualified tree surgeons to ensure the continued health of your trees

Lawn Care

– the skill of the lawn mowing and lawn care team will keep your lawn lush and green

Gardeners

– using skilled and knowledgeable experts to keep your garden in order

Garden Design

– high quality workmanship to bring your ideas to life
Other services we offer in High Wycombe
What You Can Expect from Our High Wycombe Gutter Cleaning Services
We use a wet vacuum with a special extendible pole complete with a camera to carry out gutter cleaning. This allows us to clean your gutters without ever leaving the ground, and lets you see real-time pictures of your gutters before, during, and after the process. We can also carry out a health check and point out any potential problems, making sure your property is fully protected. All of this is carried out by technicians that have been comprehensively trained and who are covered by full insurance – as you would expect from your local professionals.
Book a Visit For Gutter Unblocking And Maintenance
We've designed our services with you in mind, and have made sure it's quick and easy to book a visit from the gutter cleaners in High Wycombe HP10. Choosing us as your local cleaning and gardening company means you'll also be able to enjoy:
Qualified technicians that use the most up-to-date equipment to give your gutter the best clean possible
The ability to see before, during and after pictures thanks to special extension poles equipped with cameras
Free quotes that have absolutely no obligation for you
No need for a deposit to secure your booking and a choice of ways to pay once the work is complete
Appointment times to fit in with you, including weekends and bank holidays at no extra charge
Help and advice from friendly advisers that are available 24/7 over the phone and online
Regular special offers that make our competitive rates even better
The Easy Way to Make Your Booking – There's More Than One!
Pick up your phone and dial 020 3746 3128, or send us your details online via our instant chat facility or by typing into our booking form. Our team are standing by to answer any queries that you might have or to set up your booking whenever you call.
24 hours a day, 7 days a week is when you can find our support systems open, so get in touch now and start chatting with one of our helpful advisers. Here's how it'll work:
You'll get a preliminary quote over the phone or online after giving us more information about what you need done
Your appointment will be arranged for the ideal time for you – we've got seven day-a-week appointment options
When the team arrive they'll confirm your quote is correct on-site after seeing it in person, and you'll get to give the final nod before we proceed!
We really are dedicated to making as many people happy as we possibly can, so you'll also be able to take advantage of our gutter cleaning services in the surrounding areas too. Call us if you live in:
High Wycombe
,
Slough
,
Watford
,
Reading
,
Southall
,
Harrow
,
Hounslow
,
Ealing
,
Wembley
,
St Albans
,