Call On Experienced Professional Gardeners in Coldharbour and New Eltham BR7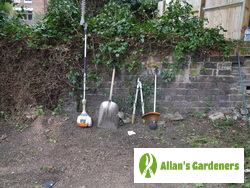 If your dream is to have a beautiful garden but you don't have the time to dedicate to the job, call 020 3746 3128 and take advantage of Allan's Gardeners. On hand to help with different kinds of work, the services of the expert local Coldharbour and New Eltham BR7 garden maintainers are an affordable alternative to spending time and effort yourself. Available for both residential and commercial customers, we have an arsenal full of the best equipment, tools and expertise in order to create your dream garden, and then keep it well maintained. Our prices are reasonable, and your service can be booked on a regular basis – daily, weekly, or for a one off occasion.
Get All Your Garden Maintenance Services From a Single Company in Coldharbour and New Eltham
Choose what you need from us, we do it all! Whenever you call on Allan's team you'll get the benefit of two experienced horticulturists and all the tools they need to complete whatever work you've asked for. Our staff will take the time to follow your detailed instructions and needs and make sure that your work is completed to the highest of standards. Above all, you'll get the benefits of a friendly local firm with a commitment to outstanding customer care combined with the resources you'd expect from the biggest of national concerns. Our gardening services include:
Garden Design:

Whether you want low maintenance, a cottage garden or space for outdoor dining, the designers will realise your dreams.

Patio Cleaning:

Keep your paths, patios and other hard landscaping fresh-looking and safe underfoot.

Tree Surgery:

The trees in your garden form the backbone of your outdoor layout – the qualified tree surgeons will keep them healthy.

Lawn Care:

From seeding a new lawn to repairing an old one, the lawn care team have the tools and experience to do a great job.

Gutter Cleaning:

The gutter cleaners work from the ground using a wet vacuum cleaner. This makes for a fast, affordable service.
Enjoy the Benefits of Coldharbour and New Eltham BR7 Garden Maintenance Services
Make your booking for your Coldharbour and New Eltham BR7 garden maintenance services and you'll soon be enjoying a number of different benefits. Your service can be tailored to the specific needs of you and your garden to include such tasks as lawn care, tree surgery, patio cleaning, and a whole lot more. When you book more than one service you also get to enjoy further discounts, making the whole experience much more enjoyable and gentle on your bank balance! Other benefits include:
We don't charge by the job for maintenance but base our prices on the time spent working in your garden
It doesn't have to be sunny, as all gardeners are enthusiastic enough to work in all weathers!
Everything can be done in one visit
We've gained our experience in a number of different settings – no job is too big or too small
We can provide free helpful advice for the continued maintenance of your garden
The Specialised Equipment Used by Our Gardening Services in Coldharbour and New Eltham
Whether you want garden maintenance, a seasonal tidy up or a garden design service, our comprehensive collection of equipment and tools can do it all. We'll provide everything from the basic tools of shovels, brooms or spades to more advanced, industry-standard technology such as chainsaws, blowers or hedge and grass trimmers so you know you can rely on us for precision garden care by highly trained experts.
Booking Options and Process
Find the specific service you need on our website
Contact us over the phone on

020 3746 3128

, through the chat facility in the corner of your screen, or by entering your details into our contact form
Answer a few simple questions such as what's the size of your garden? and what is its current condition?
Receive a preliminary cost estimate for your service to which you can agree or disagree
Arrange the date and time of your appointment and leave detailed instructions
Garden design, maintenance, care and all other services are available in a number of different areas, including: Coldharbour and New Eltham, Longlands, Chislehurst, Eltham, Bickley, Bromley, Welling, East Wickham, Sidcup, Cray Meadows,