Save Time and Money With Jet Wash Patio Cleaning in Chelsea SW3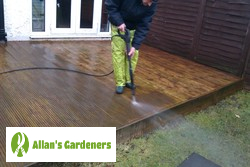 Give your outdoor surfaces a fresh clean look – book us to carry out patio cleaning in Chelsea SW3. Using the latest tools and equipment we'll remove layers of dirt, grime, oil, moss, lichens, weeds and more from paths, patios and driveways, decking, walls and even patio furniture! We can take care of a variety of materials, including brick, stone, concrete, plastic, block pavers and even wood, because the process we use doesn't involve harsh chemicals meaning that there's no risk of surface scratching and damage. So whether you want to freshen up your workplace, maintain your rental properties or spring clean your home, we can help. Call us today for more details and your free no-obligation quote – you'll find our rates are very affordable too!
Introducing Specialist Services – They're All Available To You
Your jet washing services will be completed by an experienced technician armed with powerful machinery. This equipment ejects water under high pressure, and therefore we'll require access to proper drainage and running water. All you need to do is let us connect to any external tap on your property. Don't have one? Any internal taps in your kitchen or bathroom will do nicely. You can also get:
Gardeners

– call and tell us exactly what you need. You can get us to mow, prune, trim and much more

Gutter Cleaning

– gutters are a vital part of your property's drainage system. Keep yours well maintained by hiring us at least twice annually

Tree Surgeons

– this service covers care for trees up to 65 feet in height

Lawn Care

– ensure the grass in your backyard is kept nice and healthy

Garden Design

– discuss your vision with a professional during an on-site evaluation
Other services we offer in Chelsea
Book Jet Washing in Chelsea And You'll Benefit in Many Different Ways
When you contact Allan's for patio cleaning you can be confident you've made the right choice. We've gained an enviable reputation for jet washing in Chelsea for a number of different reasons. Of course the most obvious is the standard of our service, but what else is it that enables us to keep ahead of the competition?
We've got a team of trained professionals who can clean almost anything, including driveways, patios, garden furniture, fencing and decking
The powerful equipment means we can effectively remove grime, moss, weeds, chemicals and other unwanted substances
Our prices are fixed and based on the size of the area to be cleaned, and we won't start work until you've agreed to our prices
The team consists of well trained, certified and experienced cleaners
We always ask the customer to inspect our work before making payment
Patio Cleaning Services from Your Local professionals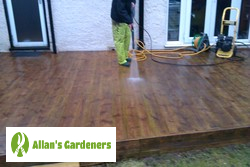 All the trained technicians can clean all of your outdoor areas when you book our patio cleaning services, including driveways, walls, decking, slippery paths, awnings, garden furniture and so much more. In fact there is very little in your outdoor space that wouldn't benefit from Allan's patio and driveway cleaning! This service is also eco-friendly and perfectly safe for your plants and pets, because the machinery that we use is gentle on surfaces while being tough on grime, so there's no need for harsh detergents. This affordable service is suitable for domestic and commercial structures, and is also a great way to maintain rental properties.
Call and Book Now! We're Standing By 24/7!
Call us on 020 3746 3128, fill in our simple booking form, or tell us about what you need by typing into the chat box in the bottom corner of this page. No matter your choice, you'll be able to speak to one of our friendly advisory team right away, or arrange for someone to call you back at a more convenient time.
The booking process works as follows:
First up, you tell us about what you need us for, and we'll give you a quote based on the area you tell us you need us to clean
You choose the best time for your affordable patio cleaning services to happen – you can choose any day you like, even Bank Holidays!
Assuming you're happy so far, we'll dispatch a team to you so that they arrive promptly
You'll have first refusal after the team confirm your quote on-site. There's no obligation!
All our services are available in a variety of locations, including: Chelsea, Kensington, Battersea, Wandsworth, Hammersmith, Fulham, Paddington, South Lambeth, Camberwell, Wimbledon,